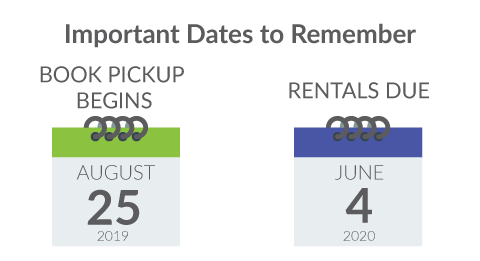 Additional Information & Policies:
Your student's schedule has been loaded into our system and will be used to populate the books that are needed.
You will login with your student's school email address and welcome serving as the initial password. You will also be prompted at checkout to enter a parent's email address to receive order communication.
If you have multiple students, you will need to place separate orders. Limit one bundle per Student ID and/or email address.
By ordering the rental bundle you agree to return all of your rental books at the end-of-year buyback during finals week or by mail. eBooks, workbooks and consumables will be included in your bundle, but will not need to be returned. (All non-returned, late or damaged books will be charged a fee of the list price of the textbook.)
All orders placed by August 17th will be shipped to the school and available for pickup beginning August 24th. Orders placed later will ship as completed for pickup at the school. You will receive detailed shipment confirmation emails to the parent email address included on your order as the items are shipped.
To take advantage of this easy, cost saving offer, please click "Add to Cart" below, and login!